Rachel Levy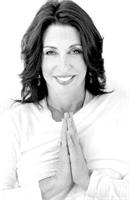 Rachel Levy, LMHC, the Sacred Spaceholder of Prayerdanse - and aka Love Coach Rachel is an Internationally respected Imago Relationship Therapist and Conscious Movement facilitator.
As a Sacred Community and bridge builder, Rachel lives and shares her private practice and teachings devoted to cultivating the relational field of empathy and the skills for Healthy Love. She offers emotional education after many years of studying and working with the shadow as a Master Integrative Coach.
Rachel also has been a teacher of choreographed dance workout for gyms like Bally Fitness and Crunch, believing dance is the greatest therapy, and movement is medicine.
In 2007, Rachel synthesized a powerful transformational process becoming known as The Spiritual Spine with the embodiment of conscious dance, and co~created PrayerdanSe. Prayerdanse is the signature movement practice of The Sacred Space Miami. Her invitation is to come danSe your heart open on Sunday mornings, your body releaSed, your Soul expressed, and your joy Shared ~ entering your week in Gratitude.
If you don't "know how" to dance, if you love to dance, if you crave a moving practice with great muSic in a place where your Sanctuary is Community - than PrayerdanSe is for YOU!
Come danse with us!
Rachel Levy is currently not instructing any classes.